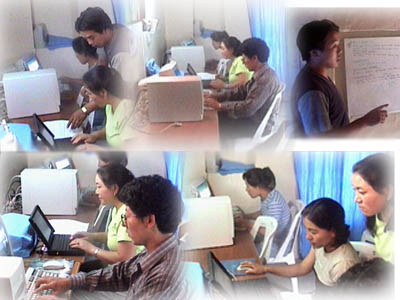 T H E C S S
Below you'll find photos of our various computer classes. Our newest program is the founding of the Community Service School (CSS), McLeod Ganj, Dharamsala, India. We began in April 2000 and provide classroom instruction in the areas of: typing (English & Tibetan), MS-Windows, file & disk management, MS-Word, MS-Excel, Adobe PageMaker, Adobe Photoshop, and our newest offering ... an advanced course covering three units: Internet / Web Page Design with Dreamweaver / Digital Photography.
Besides the regular classes, we have started a "teacher-in-training" program which focuses on creating teachers from among the most motivated and eager students. We currently have three Tibetan teachers who instruct in the classroom, perform repairs and maintenance, and manage the operations of the program.
Our CSS School also heads the computer school at the Gu-Chu-Sum Movement of Tibet ("The Ex-Political Prisoners Association"). This is a unique one-year program with a maximum of 10 students. During the course of 12 months, teachers from the CSS instruct in MS-Word, Windows, Pagemaker, Photoshop, Dreamweaver, and Accounting / MS-Excel. We are now currently working with our third batch of Gu-Chu-Sum students.